Our 2017 Autumn show is a brand new adaptation of Henry James' 1898 gothic horror.
The setting for this chilling tale is the beautiful Arnos Vale Cemetery. Join us in the graveyard chapel as we transform its walls into the eerie house of Bly.
There you will meet the Governess, a woman haunted by the mysterious past of her new home, yet enchanted by the children who live in it. She soon comes to realise she must protect the young from the dead; the tortured souls of Peter Quint and Miss Jessel who are a terrifying presence at Bly and seek to possess the children they once knew.
Are the children somehow complicit? Do the ghosts exist at all...?
Will you dare to hear her story and join us at Arnos Vale Cemetery on a dark and cold Autumn night...
Arnos Vale Cemetery - Book Now
18th-29th October 2017 - times vary, see booking site for details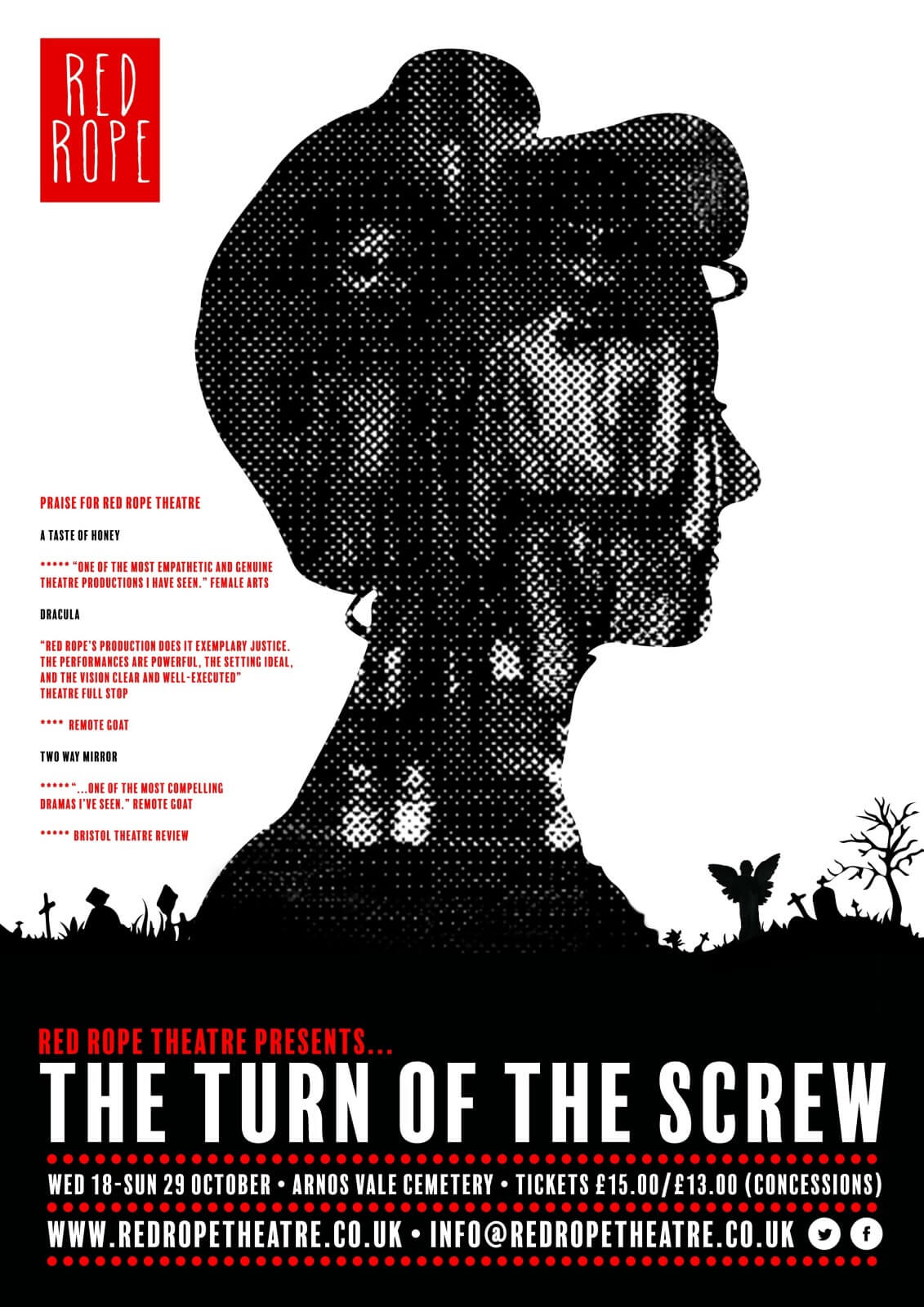 After the successes of critically acclaimed 'Two Way Mirror', 'Look Back In Anger' and their sell-out show 'Dracula' at Arnos Vale, Red Rope Theatre returned with Shelagh Delaney's blistering debut, 'A Taste of Honey'.
Written when she was just 18 and set in Salford in the 1950s it tells the story of Jo, a 17 year old working class girl and her mother Helen.
Delaney's play fearlessly and deftly tackles such weighty subjects as class, race, gender and sexual orientation with the lightest of touches and tells a story that is as relevant in 2016 as it was over half a century ago when it was revolutionising British theatre.
Alma Tavern Theatre
7:30pm 18th-29th October 2016
(Thursday and Saturday matinee at 2pm)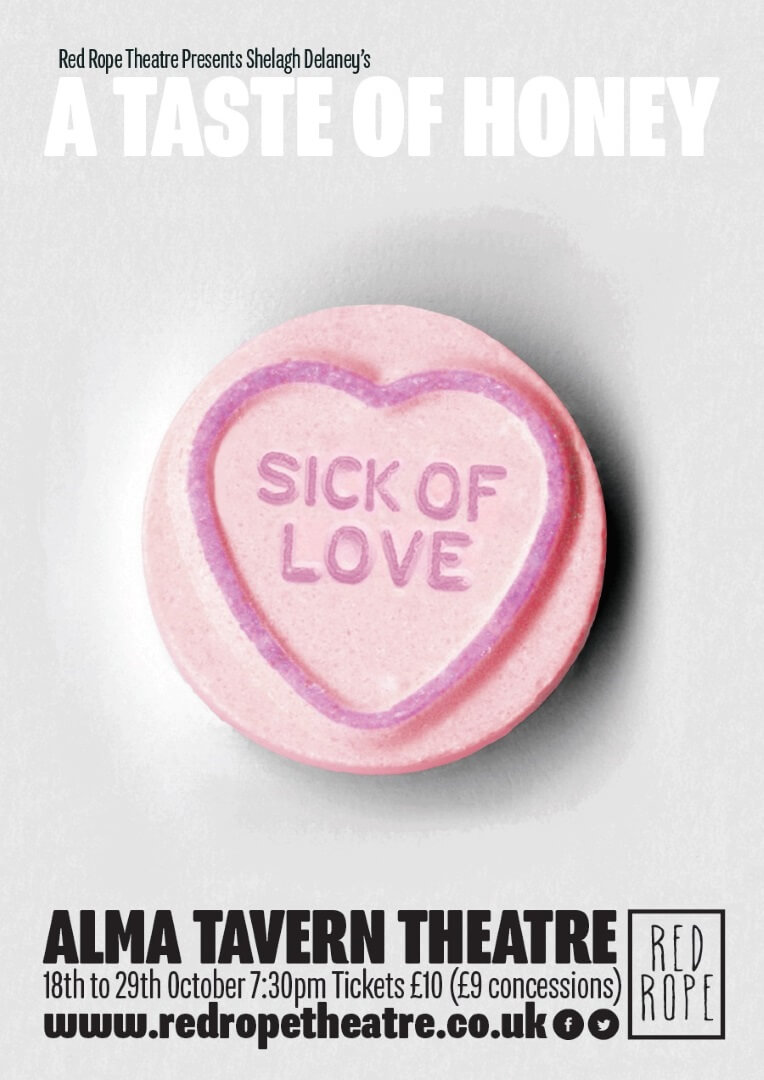 Our third and biggest production so far, Liz Lochhead's Dracula, was a sell-out success.
The play explores the eternal battle between faith and reason, madness and sanity, love and terror in the beautiful surroundings of Arnos Vale Cemetery, a setting that holds as many dark and sinister secrets as the great count himself. http://arnosvale.org.uk
**** "Red Rope Theatre Company's third production is even more impressive than the high quality of their first and second presentations" - Remote goat
"Red Rope's production does it exemplary justice. The performances are powerful, the setting ideal, and the vision clear and well-executed" - Theatre full stop
'You think I'm being offensive? You underestimate me'
Our second production was 'Look Back in Anger', a play said to be the beginning of a revolution in British theatre.
It is a play about four people in a tiny apartment crushed by the weight of history, class, memory and post war austerity. Jimmy is a disillusioned angry university graduate rebelling ferociously against the middle class life and values epitomised by his impassive wife.In his desperate need to shake up their numbed existences he succeeds only in hurting and tormenting those he loves until they can bear it no longer.
"...this was a harsh, gritty show, both delightful and painful at the same time." - Intermission
"Red Rope Theatre's 'Look Back Back In Anger' injects a refreshing rawness into the favourite play of Britains pensioners" - Bristol Theatre Review
Two-way Mirror was our first production, which toured in 2014. It is two related short plays by Arthur Miller, Elegy for a Lady and Some Kind of Love Story which can be presented together.
In Elegy for a Lady a man enters a shop in search of a gift for his dying mistress. He gradually finds himself confiding in the shop's proprietress who, rather curiously during the course of their conversation, seems to assume the characteristics of the absent mistress. As they very openly speak of their concerns and anxieties, the strangers are brought together and share a closeness which both have sought but never found. "Miller at his best!" [The Daily Mail]
Some Kind of Love Story is a compelling study of two people destined by their mutual dependence to tear one another apart. Tom, a Chandleresque private eye, finds himself bound to the prostitute Angela whom he believes holds the vital information he desperately requires to resolve the case that has occupied him for years. The fragile and unstable Angela will, however, never reveal what she knows for she is equally bound to Tom in the desperate hope of receiving the warmth and affection she has always been denied. "An excellent, powerful play." [The Guardian]
***** "...absolutely fantastic and well worth watching" - Bristol Theatre Review
***** "...one of the most compelling dramas I've seen." - Remote Goat
"...a powerful and evocative launch onto the touring circuit." - The Stage
"excellently delivered by the young Red Rope Theatre Company ... this excellent production ticks all these boxes" - Gloucestershire Echo